And now for a very belated report about how the Little Women spent their Christmas break. The short answer is that they spent it in Germany, the place where Jonathan would gladly spend every Christmas.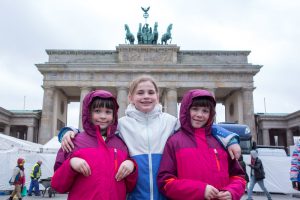 The week before Christmas they flew into Frankfurt, where they met up with Aunt Aubrey. (This is important because during the trip Aunt Aubrey introduced them to many life-changing activities, like taking selfies, posing for photos with statues, and doing facials in your hotel room.) Their short time in Frankfurt allowed them to visit Christmas markets in the old part of town and also see Mainz, the old stomping grounds of Johannes Gutenberg.
After a couple of days they took a train to Dresden, in the eastern part of Germany. Having previously spent Christmas in Dresden, the Little Women knew that a great Christmas market was waiting there for them, along with beautifully restored buildings. On Christmas Day they visited the historic and beautiful cities of Görlitz and Bautzen.
Once Christmas Day was over, the Little Women packed up their growing stash of holiday treats and took the train north to Berlin. While there was much to like about Berlin (what with the girls' love for hip European capitals), their favorite part about the city was the fantastic breakfast that the hotel served every morning.
With December drawing to a close, they whisked back to Frankfurt to spend one more night there before flying home. When the plane touched down in Seattle, the Little Women had great Christmas memories, and Jenelle and Jonathan still had their sanity, so it must have been a fantastically successful trip.
More pictures are here.